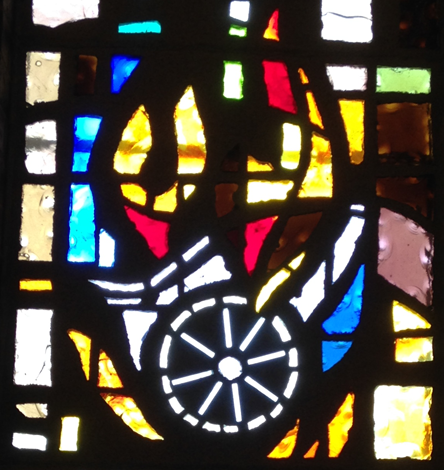 This is the Ascension window in our church. The flaming chariot of Elijah in our Old Testament reading (find 2 Kings 1-3 here) is a symbol of Jesus' triumphant ascension into heaven (Luke 24:51-52).

For Elijah, the battle was over. He is one of two people (with Enoch in Genesis 5) who was taken up to heaven without tasting death. Jesus' ascension and Enoch and Elijah's ascensions assure us that our battle will someday end and the victory will be ours.

The rest of the Old Testament reading makes clear that as long as we are in this world, we will be in a spiritual battle:
The battle against false belief: King Ahaziah's trusting Baal rather than the LORD (2 Kings 1)
Attacks on the church: Elisha experiencing ridicule in his role as prophet (2 Kings 2)
The depravity of the human heart: The King of Moab's horrible deed to end an attack against him (2 Kings 3).
In the New Testament lesson (find Romans 8:1-17 here), the battle is within, the battle against our own flesh or sinful nature.

May the battles that we face keep us focused on the day when the battle will be over. If we share in Christ's suffering, we will also share in his glory (Romans 8:17).

And when the strife is fierce, the warfare long,
steals on the ear the distant triumph song,
and hearts are brave again, and arms are strong.
Alleluia, Alleluia! (For all the Saints)

Grow Your Influence: Leadership Summit 2021

By every possible means we bring everyone in our area of influence closer to Christ. The greater our influence, the more God can use us to draw people to the Savior.

Grow your influence by attending the 2021 Global Leadership Summit, August 5 & 6. If you register by Friday midnight, you will receive the best price for this two-day leadership training (only $99) plus access to nearly all the presentations from the 2020 Leadership Summit. Attached are notes to give you a flavor of what you will learn. Register by clicking here. St. Paul's will again be hosting this event in our Trinity Gym.

Outdoor Worship August 23 at 10:30

On Sunday, August 23, we will offer an outdoor worship service at 10:30 am. This outdoor service will be live-streamed and will take the place of the 10:15 am Bridge service and the 10:45 service. There will still be indoor worship services that weekend on Saturday at 5 pm, Sunday at 7:45 & 9:15 am and Wednesday at 7 pm.

Enjoy a Bible Study this evening at 7 pm

Join us in a Zoom Bible study of 1 Corinthians 12-14, digging deeper into the topic of spiritual gifts. I will send out a link just before the 7 pm study.

The teachers of our school will be meeting today to prepare for the new school year. Please pray for all the teachers and schools in our nation as they seek to serve our children.

Your brother in Christ,

Pastor Pete