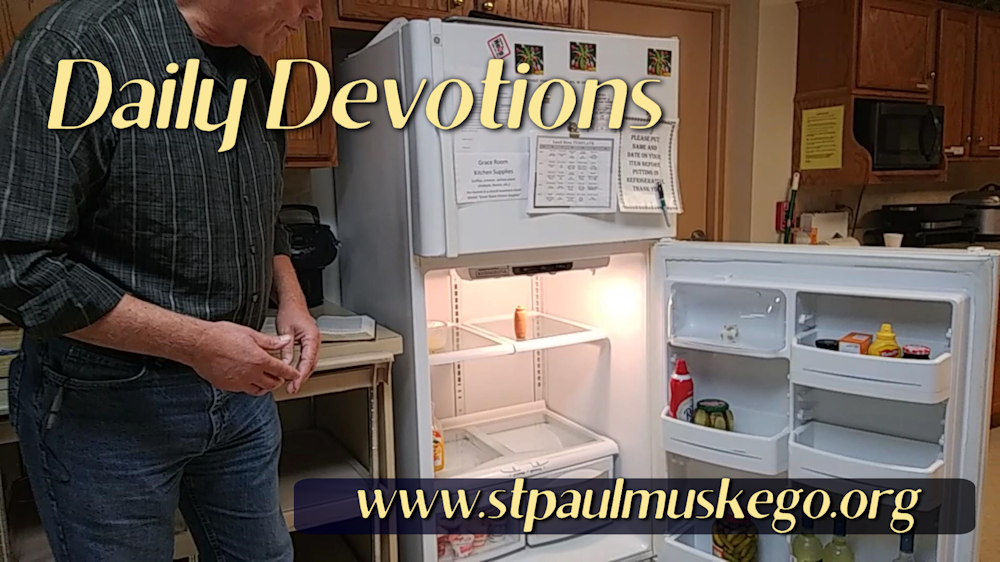 "There is nothing in the frig." That's how I often feel, especially on Monday mornings after I preach. I'm not sure that I have what it will take to serve the Savior today. View today's devotion here.

The Apostle Peter in our New Testament lesson for today (find 2 Peter 1 here) assures us that the Savior's "divine power has given us everything we need for life and godliness." I read God's word daily asking that the Holy Spirit fill me with his "very great and precious promises" so that I can "experience partnership with the divine nature" (The Passion Translation).

Humanly speaking, I'm often "empty," but in Christ's promises, you and I have everything that we need. If you want to join me in this daily Bible reading pattern, I've attached the schedule I use.

"The Word of the Prophets Made More Certain" (2 Peter 1:19 NIV 1984)

In the last half of the chapter, Peter assures us both that the Old Testament prophets are reliable and that his testimony about Jesus is reliable. His reference in verse 15 is one of the reasons the Church has seen Mark's Gospel as a fulfillment of Peter's plan to preserve his eyewitness testimony for generations to come.

Our Old Testament reading (find Micah 1-3 here) relates to this theme of "the Word Preserved." Micah was a contemporary of the prophet Isaiah, living about 700 years before the time of Christ. He foretold God's judgment on Jerusalem for their unfaithfulness. One hundred years later, the prophet Jeremiah was threatened with death for also announcing the coming judgment (see Jeremiah 26). The elders of the land defended Jeremiah by quoting Micah 3:12 verbatim. It is a reminder that the Word was carefully preserved from the moment it was written.

In the video devotion, I reference the Dead Sea Scrolls. If you would like more information find the Wikipedia article here. The discovery of these scrolls also assure us that God not only inspired the prophets, but made sure his people carefully preserved the inspired Word.

Worship with Us
You can still join us for in person this week on Wednesday at 7 pm. The smaller attendance at this service provides a safe, socially-distanced, worship environment.

Continue to Learn

Join us for the following Bible studies on Zoom. All you need is a laptop, tablet or smart phone to join these studies. You do not need Zoom. Just click the link that you will receive and your device will do the rest!
Pastor Nate's Following the Promise study on Tuesdays at 7 pm. Register with him by emailing him at
Pastor Pete's discussion of the message and GroupWork, every other Thursday at 7 pm. Our next study is this Thursday, October 8. All are invited. Click here for the link and I'll send it out again on Thursday:
Register for the Responding to Abuse Seminar (click here)

On Saturday, October 17, from 8:30 am to 3:30 pm Michelle Markgraf of WELS Kingdom Workers will present a seminar in which we will learn about the different forms of abuse, the effects of abuse on the survivor, and how our church and community can help survivors. The seminar will also be live streamed.

For us Christians, "the frig is never empty." In Christ and his Word, we have all that we need.

Pastor Pete