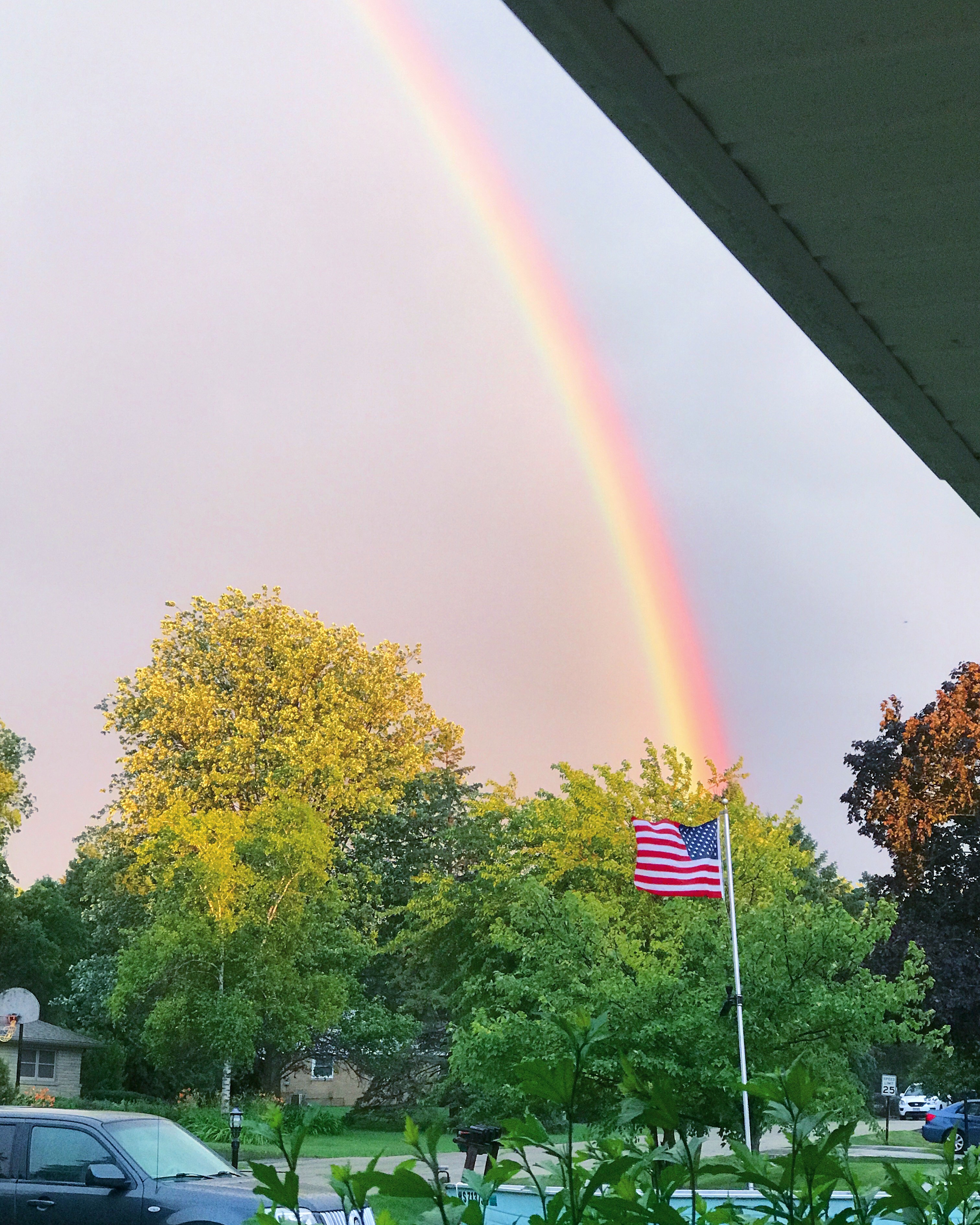 There have been some awesome rainbows this summer! This picture was taken by St. Paul's member Shannon Talatzko. Two thoughts come to my mind…

1. There is a pot of gold at the end of every rainbow.

While that is just a legend, as we enter a long 4th of July weekend for many of us, it is fitting to remember that God has blessed us as citizens of the United States. Our nation is our "pot of gold" at the end of the rainbow.

2. The rainbow reminds us of God's glory.

Ezekiel saw a vision of God in Ezekiel 1. He wrote: "Like the appearance of a rainbow in the clouds on a rainy day, so was the radiance around him. This was the appearance of the likeness of the glory of the Lord."

How fitting on this 4th of July weekend to pause and ask that God's glory would shine down upon our nation.

Your Will Be Done

This weekend as we continue our message series based on the Lord's Prayer, we will consider the account of Abraham in Genesis 18. He prayed fervently and persistently for his "nation." May we do the same!

Worship with us in person

The Easter Every Sunday prayer team is asking God to work a miracle among us so that each one of us sees every Sunday as important to our faith as Easter. Join us in this commitment to every Sunday worship.

This past weekend over 950 joined us in worship on a mid-summer Sunday! I see this as an answer to so many fervent prayers.

Traditional Services: Sat @ 5 pm, Sun @ 7:45 and 9:15 am, Wed @ 7 pm
Contemporary Service: Sun @ 10:45 am
The Bridge: Sun @ 10:15 am

Childcare is available at all Sunday services except 7:45 am. Ask a greeter for directions.

Traveling this weekend?

Many of us will be traveling over the holiday weekend. If you are back in town on Wednesday, join us at our 7 pm midweek service. Think of the Wednesday service as the "last service of the weekend."

Worship online

If you can't worship with us in person, join with over 100 individuals who worship with us online. You can watch a recent message here or download a podcast here.

Fifteen of you watched us "live" at The Bridge last Sunday. Watch on Sunday at 10:15 or join the 26 people who watched an archived service. Click here.

The Power of a Praying Parent

We gave away over 300 copies of the book The Power of a Praying Parent several weeks ago. I've heard so many positive comments as people are using this book to pray daily for their children, grandchildren, and other children in their lives. If you didn't get a copy, I'd encourage you to order a copy for yourself. After all, we believe that Prayer is Powerful!

May the Holy Spirit bless each of you as you celebrate our nation as the "pot of gold" given to us from God and as we join together in worship and pray persistently that the God who is clothed in a rainbow will come down in blessing on our nation.

Your brother in Christ,
Pastor Pete
For the Ministerial Team

PS. Remember that Awake and Alive for the 18-25 year-old generation is Sunday, July 9 beginning at 5 pm. Watch a short video here. Special guest Holly Starr will be performing about 7:45 pm. All ages are invited to Holly's concert.