In the darkest times the LORD's Glory shines forth.

In the reading yesterday, just 40 days after hearing the LORD speak the 10 Commandments, the Israelites worshipped the golden calf. The LORD in his justice had every reason to destroy them entirely.

In this darkest of times, the LORD revealed his glory to Moses. He proclaimed his Name:

"The LORD, the LORD, the compassionate and gracious God, slow to anger, abounding in love and faithfulness, 7 maintaining love to thousands, and forgiving wickedness, rebellion and sin. Yet he does not leave the guilty unpunished; he punishes the children and their children for the sin of the parents to the third and fourth generation."

Moses' face glowed with the glory of the LORD. The LORD forgives and calls his people to a renewed commitment to their role as his favored people.

See the LORD's Glory revealed in Exodus 33-34.

In the darkest time of the New Testament, the LORD's Glory shines forth.

In the reading yesterday, Jesus is dead. The cry from Jesus' lips, "Why have you forsaken me?" echos in the hearts of the disciples. It is the darkest of times.

The disciples had never really heard Jesus when he foretold his resurrection. Now they see that Jesus' words are all true. "He is not here. He has risen just as he said."

The LORD forgave the doubting disciples and called them to a renewed comment to their role: "Go and make disciples…"

See the LORD's Glory revealed in Matthew 28.

Yesterday, I was at the deathbed of a good friend. It is the darkest of times for his family.

Yet, it is in the darkest of times that the LORD's glory shines forth.

The LORD's love remains constant for this family. Jesus was forsaken. Their loved one is not. Jesus rose from the dead. Their loved one will too. "Because I live, you also shall live" (John 14:19).

The LORD's Glory becomes clear and precious in these darkest of times. The LORD's Glory is revealed in His saving, powerful Word.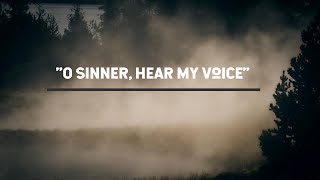 Today Mike Westendorf on our staff released a new song he and his son Adam wrote. Many of our friends at The Bridge were involved. It is an invitation for us who may be in the darkest times of our lives to hear the Word and by faith see the Glory of the LORD. Enjoy this new release and in the darkest of times, here the Savior call to you: "O Sinner, Hear My Voice." Listen by clicking here.
Ash Wednesday Worship

If you weren't able to join us in person yesterday for Ash Wednesday, join us in online worship by clicking here. The worship folder is attached.