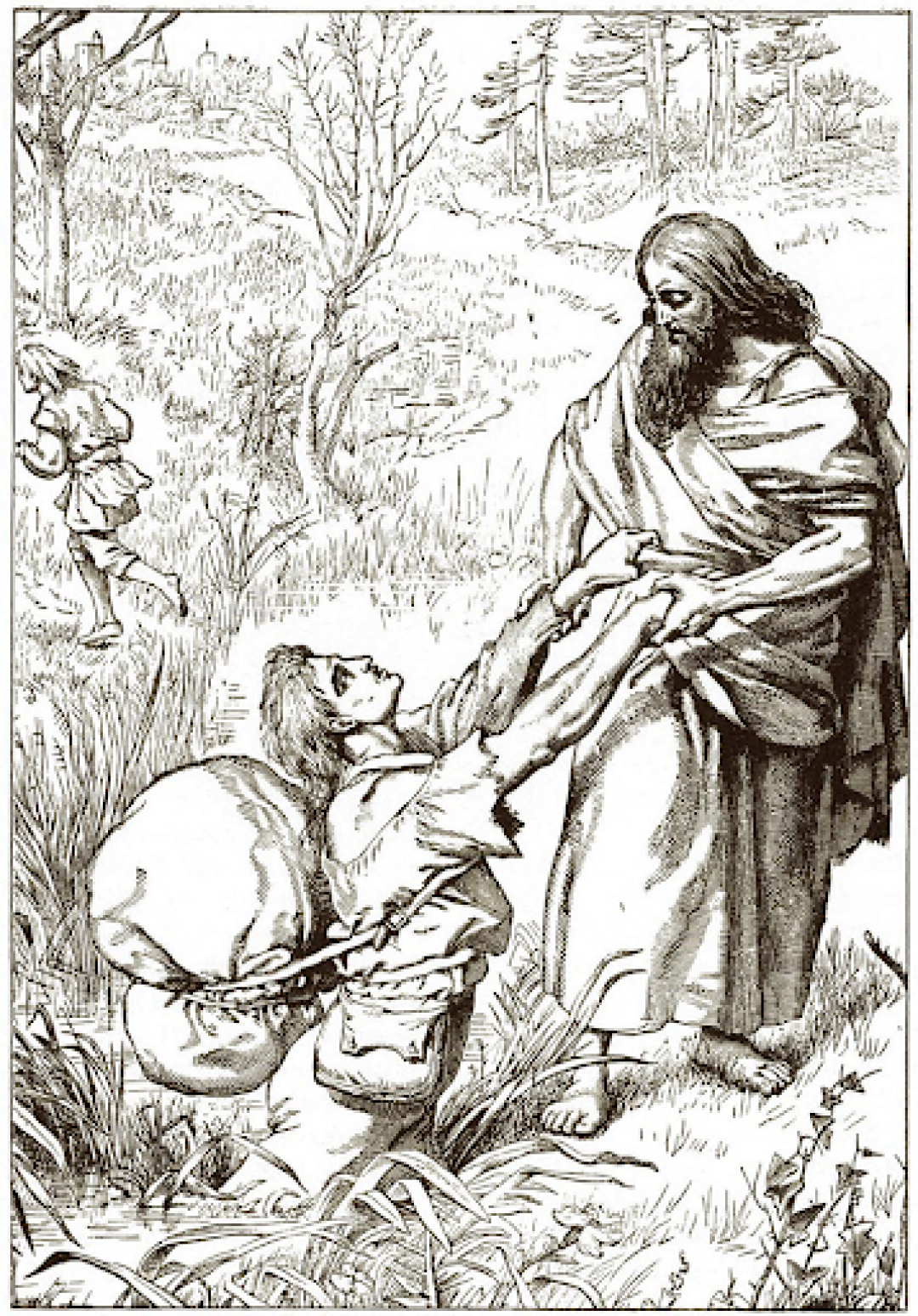 In John Bunyan's Pilgrim's Progress (published 1678), the Christian pilgrim, weighed down with the great burden of the knowledge of his sin, must cross "the slough of despond":

"As the sinner is awakened about his lost condition, there ariseth in his soul many fears, and doubts, and discouraging apprehensions, which all of them get together, and settle in this place" (learn more here).

In today's lessons, we hear prayers offered up from "the slough of despond."

Start your reading with Psalm 69. Notice the many verses that refer to the Messiah:
Those who hate me without reason outnumber the hairs of my head (v. 4 and John 15:25).
Zeal for your house consumes me (v. 9 and John 2:17).
They put gall in my food and gave me vinegar for my thirst (v. 21 and Matthew 27:34,48).
May their place be deserted (v. 25 and Acts 1:20).
With so many references that show that the Savior was speaking through King David in this psalm, there are a few surprises:
"You, God, know my folly; my guilt is not hidden from you" (v. 5). How could the Savior who was without sin speak these words? "God made him who had no sin to be sin for us" (2 Corinthians 5:21). So completely did the Savior take our place that he claims our sin as his own.
"I sink in the miry depths, where there is no foothold. I have come into the deep waters; the floods engulf me" (v. 2). The Savior who took upon himself our sins also goes through 'the slough of despond' with us!
As you read Psalm 69, remember that we have a Savior who is able to sympathize with us because he took our place. You are not struggling through the slough of despond alone. Jesus is there. Think of this as you see Jesus in the Garden in our New Testament Lesson: Luke 22:24-46. He prayed so hard that his sweat was mixed with blood!

As the disciples looked back on that same night, they could have fallen into "the slough of despond."
They had argued about who was greatest.
They deserted Jesus in his hour of need.
They slept rather prayed.
The guilt could have drowned them in the mire and muck of despair.

You and I took can see so many of those same failings.
Who is the greatest?
Overconfidence in our spiritual strength.
Promises to pray that go unfulfilled.
When the devil is trying to drown you in the slough of despond and despair, read again Psalm 69 and find comfort that Jesus accepted his Father's will and carried our guilt as his own to the cross.

Jesus' death for us and his victorious resurrection lifts from the slough of despond so that we can join in the song of spiritual harvest in Psalm 67. "May all the peoples praise you!"

Then read Psalm 68 and celebrate as together with all of God's people, in Christ we climb out of the muck of despair and ascend the mountain of God. In spirit we join with the Old Testament believers who went up on to the temple mount to celebrate that we are safely part of God's family.

The Father heard Jesus from the Garden of Gethsemane--his slough of despond. The Lord hears our prayers that we offer in the darkest times of our lives.

Praise be to the LORD, to God our Savior,
who daily bears our burdens. Amen! (Psalm 68:19)