We will be enjoying an outdoor worship service today at 10:30 am. Bring your lawn chairs. Buy a cup of coffee (hot or cold) or some ice cream from Better Together Mobile Cafe.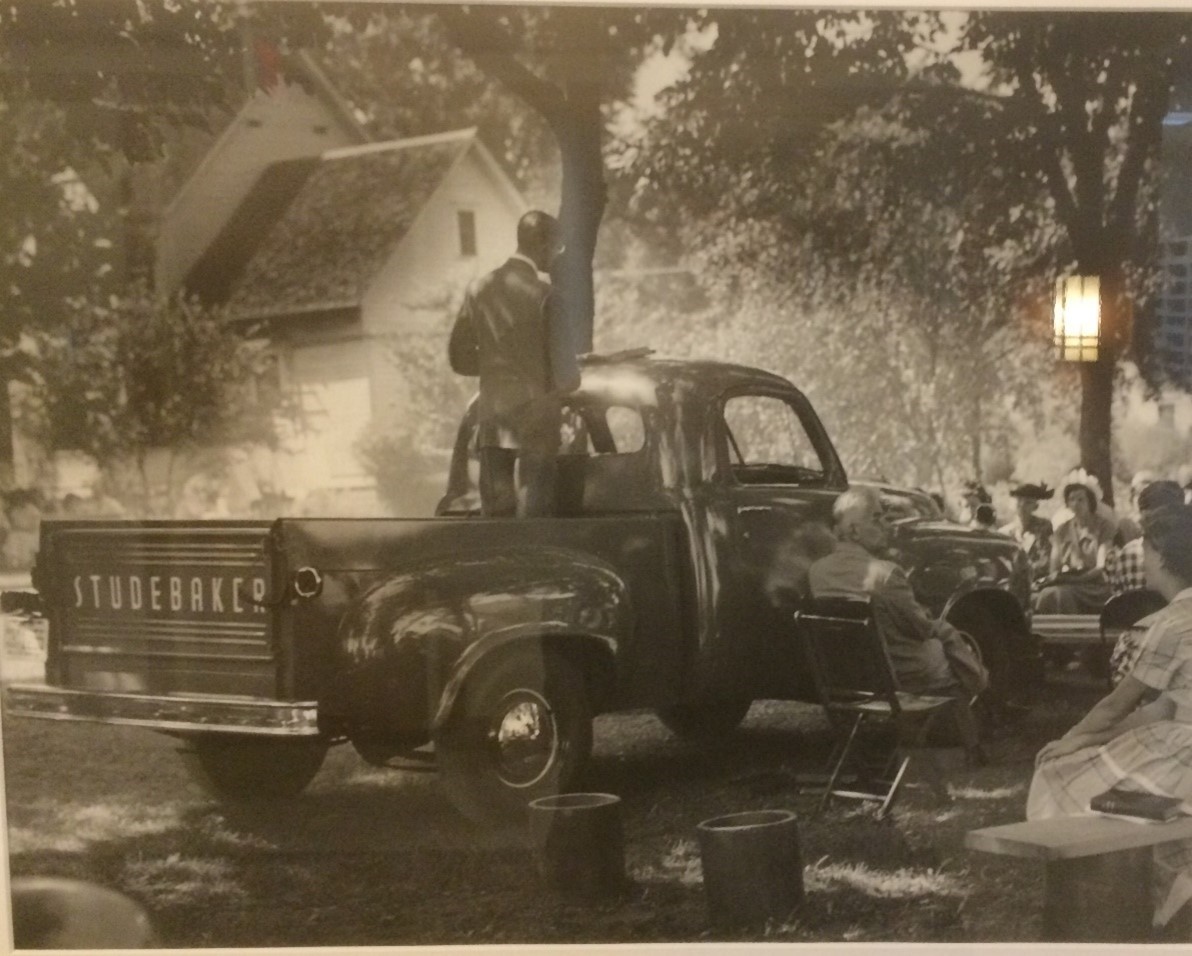 I am in the Picture!

The picture above was taken 71 years ago (June 4, 1950) at the St. John's Lutheran Church outdoor service in Ramsey Park, Redwood Falls, Minnesota. It hangs in the lobby of the synod's office building.

Why do I add all those details? Because I am in the picture. It is very personal to me.

I wasn't born in 1950. I'm in the picture because my grandmother is in the picture. She is the woman in the black hat just above the Studebaker's right front fender. One of my uncles later bought that Studebaker. I'm told it is still sitting in the grove of one of my cousin's farm.

I share this picture to help you appreciate another long list of names in today's Old Testament reading: 1 Chronicles 23-25 (skim through the names here).

The Chronicler wanted to comfort God's people who lived about 500 years after King David. His first readers had come back from the Exile in Babylon. The mighty nation of Israel under King David was now a back-water province of the Persian Empire.

But they were a people who kept long family records. Many of those people living 500 years after the time of David could trace their ancestry back to people listed on these pages. When they read these names, they saw their grandfathers in the picture. In that sense, they were there, just like I was there in Ramsey Park that June day 71 years ago.

We don't have that personal family connection the first readers would have had. But as you skim over those names, recognize each of them is one of your spiritual ancestors. They worshiped the same Savior God as you do. They are part of your family.

And the comfort? Often it can seem like we have been forgotten, like the exiles who returned to Jerusalem and lived in a country filled with ruins and reminders of better times. Remember: the Savior God who watched over our family members in the past is the same Savior God who is watching over us. As He stepped into history and guided history in the past, so He is active in our present history.

As you skim over all these names, hear echoes of the psalmist's words: "Be still, and know that I am God" (Psalm 46:10).

I also think of my grandmother as I read the New Testament lesson (read Luke 13:10-35 here). Jesus used everyday experiences familiar to my grandmother to help us understand truths about the kingdom: care of animals, seeds, yeast, narrow doors, family feasts. The timeless Word that comforted generations past still comforts us today.

Brothers and sisters, you are in God's picture! Let us worship him!

Psalm 77

Asaph and Jeduthun, contemporaries of King David and prominently mentioned in our Old Testament list of names, were also inspired writers of psalms. Notice in Psalm 77, a psalm Asaph wrote for Jeduthun to perform, how they looked to God's great acts in the past. They too saw themselves "in the picture" of God's history and found comfort.

For the director of music. For Jeduthun. Of Asaph. A psalm.
1 I cried out to God for help;
I cried out to God to hear me.
2 When I was in distress, I sought the Lord;
at night I stretched out untiring hands,
and I would not be comforted.

3 I remembered you, God, and I groaned;
I meditated, and my spirit grew faint.[b]
4 You kept my eyes from closing;
I was too troubled to speak.
5 I thought about the former days,
the years of long ago;
6 I remembered my songs in the night.
My heart meditated and my spirit asked:

7 "Will the Lord reject forever?
Will he never show his favor again?
8 Has his unfailing love vanished forever?
Has his promise failed for all time?
9 Has God forgotten to be merciful?
Has he in anger withheld his compassion?"

10 Then I thought, "To this I will appeal:
the years when the Most High stretched out his right hand.
11 I will remember the deeds of the Lord;
yes, I will remember your miracles of long ago.
12 I will consider all your works
and meditate on all your mighty deeds."

13 Your ways, God, are holy.
What god is as great as our God?
14 You are the God who performs miracles;
you display your power among the peoples.
15 With your mighty arm you redeemed your people,
the descendants of Jacob and Joseph.

16 The waters saw you, God,
the waters saw you and writhed;
the very depths were convulsed.
17 The clouds poured down water,
the heavens resounded with thunder;
your arrows flashed back and forth.
18 Your thunder was heard in the whirlwind,
your lightning lit up the world;
the earth trembled and quaked.
19 Your path led through the sea,
your way through the mighty waters,
though your footprints were not seen.
20 You led your people like a flock
by the hand of Moses and Aaron.