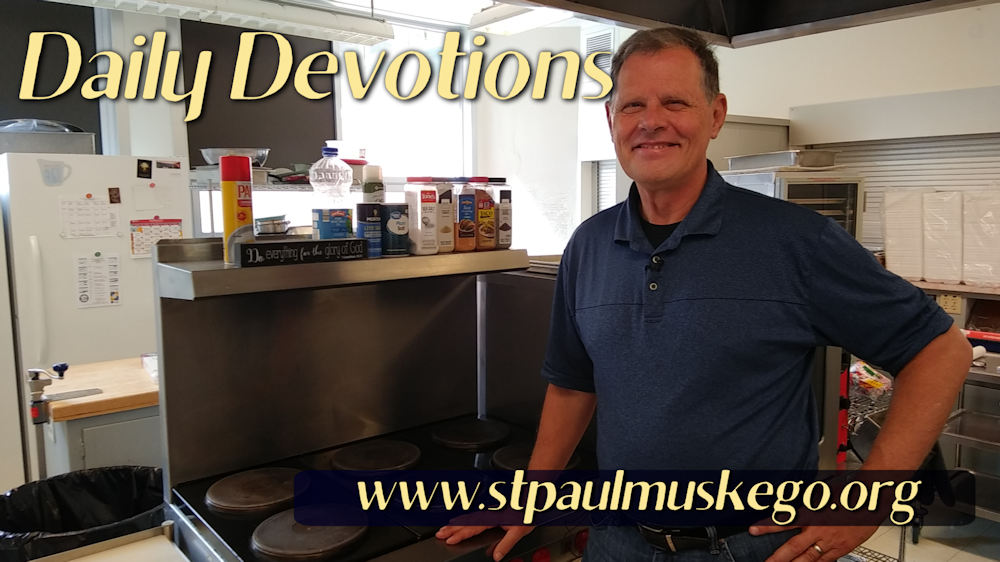 I want to thank Carrie Rynders and Vicki Just who were working in the school kitchen as I was preparing for this devotion. They couldn't stay for the filming, but they provided just the right seasoning. Watch the devotion here.

Our New Testament lesson (read Colossians 4 here) talks about seasoning our conversation with salt. I see that seasoning in our Old Testament lesson (read Isaiah 31-33 here) as the LORD provides the seasoning of law and gospel.
Law: Calling the Israelites to repentance for trusting in the Egyptians to protect them from the Assyrians.
Gospel: The LORD promising to rise up in power to give his people peace.
It is this personal application of law and gospel that Pastor Bonack preached about this past weekend based on Matthew 18:15-20. Watch his message here and share it with your friends.
The traditional and outdoor worship folders are attached.

Save the Date - Seminar on Saturday October 17

Survivors of abuse are all around us. Even in the church. One in three men and women have experienced relationship violence in their lifetime. Abuse is a difficult topic, but research shows that survivors who have support from their church have more feelings of well-being and are less likely to return to an abusive relationship. All of us need to better understand this tragic phenomenon and how to respond. On Saturday, October 17, from 8:30 a.m. through 3:30 p.m. Michelle Markgraf of WELS Kingdom Workers will present a highly interactive seminar where all the members of the congregation are invited to learn
The different forms of abuse
Effects of abuse and trauma on the survivor
How you can help a survivor
How our church and community can help survivors and address abuse
Save this date. Lunch and snacks will be provided. More information on registration will be coming in the weeks ahead.

Spiritual Growth for Yourself and Your Children
Click here for Kids Club Family Lesson. We hope to begin in-person Kids Club soon. Please register your child(ren) now so that we can be prepared. Use this link to register.
Following the Promise study is to begin next Tuesday, September 29 at 7 pm using Zoom. Connect with Pastor Nate at to register or for more information.
GroupWork Discussion will be held again on Thursday, September 24 at 7 pm using Zoom. All are welcome. Click here for the link. The GroupWork study questions are attached. Pastor Pete moderates the discussion.
Let us join together in prayer for each other that the Lord would use us to season all our conversations with the love of God in Christ.

Pastor Pete