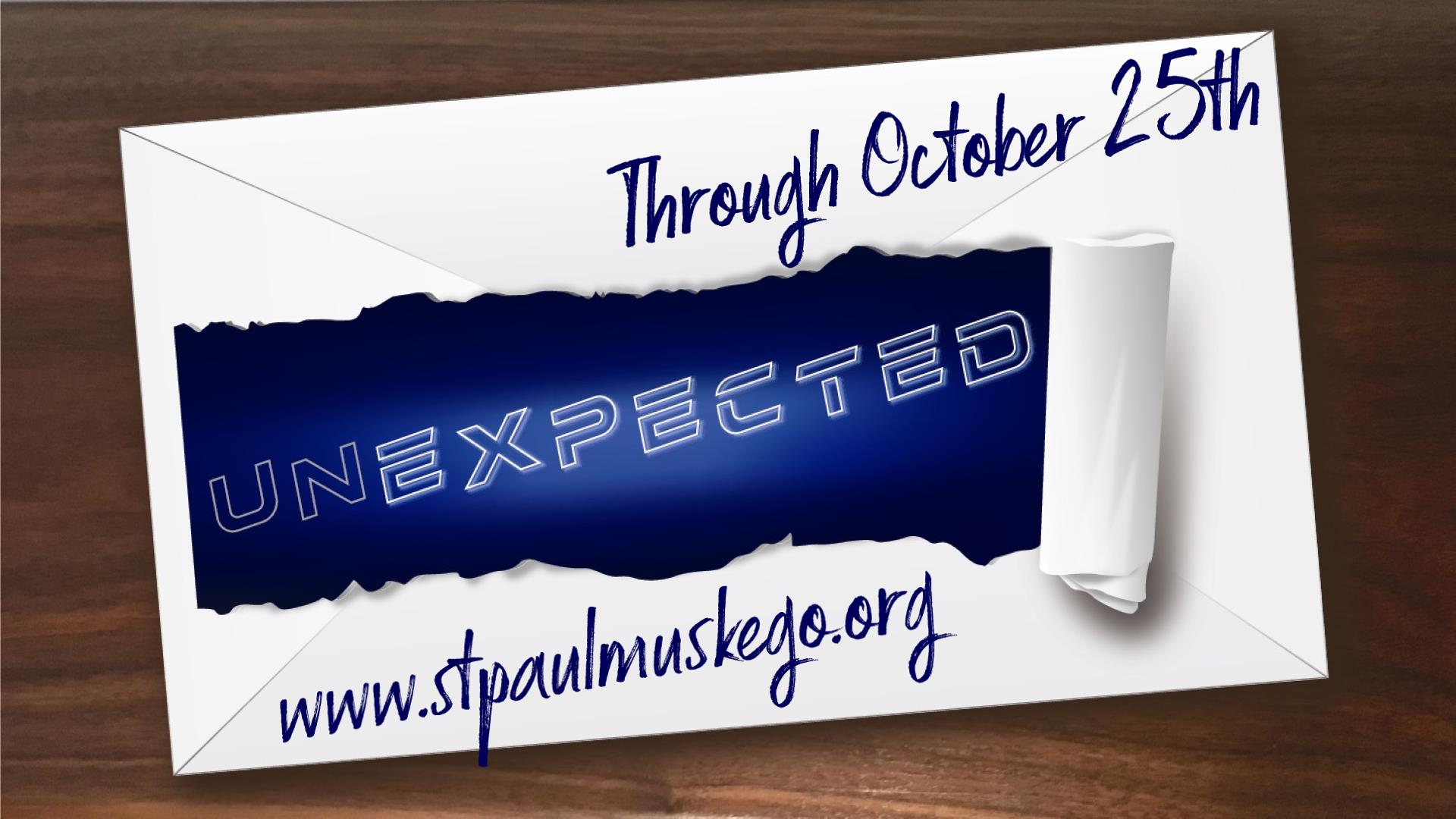 Join us in worship this morning, in person (click here for times) or online (click here for links). The worship folder is attached. We are beginning the Unexpected Message Series outlined below. Click her to view the trailer.

New Message Series: Unexpected

Often Jesus' parables take an unexpected turn. The way our God deals with us can also seem unexpected. The "Unexpected" message series takes up both of those issues as we look at four parables.
October 4: The Parable of the Workers in the Vineyard – Matthew 20:1-16 Unfair! Children often complain that their parents are unfair. God's children do too. Is the problem that God is unfair? Or is the problem in us?
October 11: The Parable of the Two Sons – Matthew 21:28-32 Inconsistent! We say one thing but do another. We are inconsistent. Is that true of God too? It can seem that way to God's children.
October 18: The Parable of the Tenants – Matthew 21:33-43 Permissive! To us it seems like God is being way too permissive when he deal with the ungodly. Why doesn't he come in judgment sooner? God's children can be glad he does not.
October 25: The Parable of the Wedding Banquet – Matthew 22:1-14 Biased! Is God biased? Does he play favorites? What is the key to God being able to welcome all into his heavenly banquet? What can we learn from him?
"The one who trembles at My word…"

We bring our reading from Isaiah to a close (find Isaiah 66 here). The last part of Isaiah (chapters 40-66) were spoken to God's people who would see the temple destroyed by the Babylonians. The judgment came upon God's people because they were going through the motions of worship. The author compares their meaningless temple sacrifices to offering unclean animals to God.

The temple was destroyed, but for those who tremble at His Word, the LORD promises a bright future with people being brought into God's Church from all over the world (66:19-21). Isaiah was privileged to see into the New Testament growth of God's church.

Our New Testament reading (Philippians 4:2-23) brings this letter of joy to a close. Paul is sitting in prison in Rome as he writes this letter. He doesn't know for sure how the imprisonment will turn out, whether in release or in death, but he can say, "Rejoice in the Lord always."

We who are the fulfillment of Isaiah's prophecy, who have come to see the LORD's glory in Jesus' cross and resurrection, can rejoice always. Victory is ours in Christ.

God bless your worship. God bless our nation. God bless our President. We continue to pray for his health and safety.

Pastor Pete