Today's readings (Acts 9:36-10:16) and (Deuteronomy 26-27) are both written about times of great transitions.

In Deuteronomy, the transition is from the nomadic life in the wilderness for 40 years to the settled life in the Promised Land. As Moses brings his last "sermon" to God's people to a close, he reminds them that they are the LORD's treasured possession, a holy nation (Deuteronomy 26:18-19), echoing the promise that began the LORD's formation of this nation at Mount Sinai (see Exodus 19:3-6).

In chapter 27, Moses prepares for a Dedication Service to take place in the heart of the Promised Land at Mount Gerizim and Mount Ebal. (See this natural amphitheater in the picture below. The modern city of Nablus is located over ancient Shechem.) Their continued possession of the land will depend on their faithfulness to the LORD who has been faithful to them.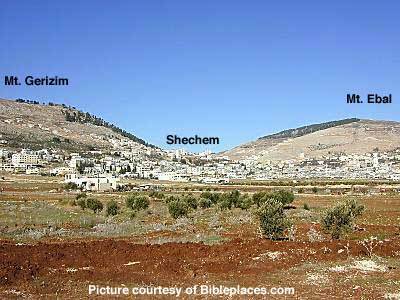 In Acts 9:36-10:16 we read the story of Dorcas and then begin to hear how the Holy Spirit transitioned the Church to understand the Gospel is for all people - Gentiles too!

Looking back over the last year, it is amazing to think how the LORD has led us through times of great transition because of COVID, racial unrest and political division. What changes lie in the future? What new insights does our God want us to see? Trust that the LORD who led his people in the past will lead us into the future. May our prayer always be: LORD, keep us faithful to you so that we might receive your blessing and be a blessing to others. Amen.

Our Worship Experiences

Enjoy or relive our worship journey from the Upper Room, to the Cross, and the Empty Tomb with these links:
Here are the links to the children's songs that were played in service this past week:
Finally, enjoy this week's Monday Morning Smile with Pastor Kuehl here.