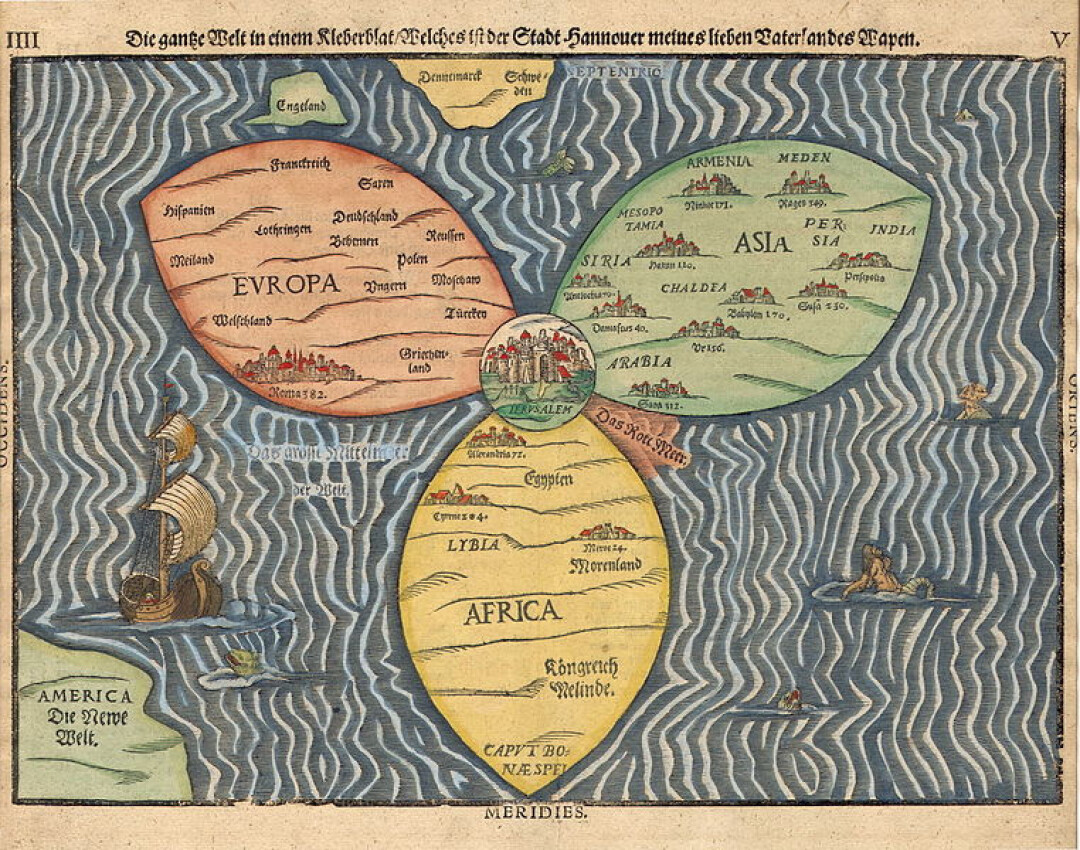 In 1581, Pastor Heinrich Bunting produced this figurative map showing Jerusalem at the center of the world.

This map pictures the truth revealed in our Old Testament lesson for today and in the coming days. Why does the LORD speak to his prophet about Tyre and Sidon in Ezekiel 27-28 (read it here)? Why will we spend the next two days reading about the destruction of Egypt?

The key to understanding is at the end of today's lesson:

No longer will the people of Israel have malicious neighbors who are painful briers and sharp thorns. Then they will know that I am the Sovereign LORD. This is what the Sovereign LORD says: When I gather the people of Israel from the nations where they have been scattered, I will be proved holy through them in the sight of the nations. Then they will live in their own land, which I gave to my servant Jacob (Ezekiel 28:24-25).

The LORD's people are the Center of the LORD's attention. The LORD controls the nations for the sake of his Church. In the Old Testament times, his church was known as "the people of Israel." As you read this section, remember that every believer in Jesus is a part of God's New Testament people of Israel. You are the center of the LORD's attention.

Where are all these places?

Tyre was a wealthy port city on the Mediterranean Sea, the hub of a trading empire that reached from the Black Sea region (Beth Togarmah) on the north to Arabia and Egypt on the south, from Tarshish (Spain) in the west to Persia in the east. Tyre was besieged by Nebuchadnezzar for 13 years, but he could not capture the island fortress. The island fortress fell two hundred years later to Alexander the Great. The map below shows the extent of Tyre of Phoenicia's influence.




We are still the Center of the LORD's Attention

The New Testament reading (John 12:27-50) assures us that we remain the center of the LORD's attention. In yesterday's reading, Philip and Andrew bring a request to Jesus from some Greeks. Does Jesus have time for them? In today's lesson Jesus foretold that he would be lifted up on the cross to draw all people to himself. Even though the Jewish leaders rejected Jesus just as Isaiah had foretold, by God's grace we are drawn to him. We have become a part of God's New Testament Jerusalem. Yes, we were and are the Center of our Savior's Attention.