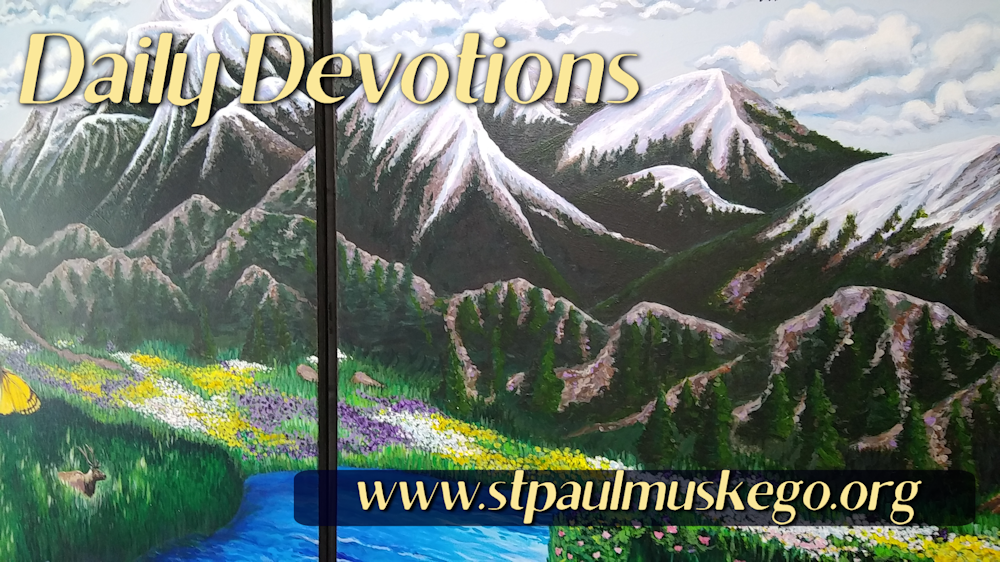 Our devotion today uses the mural in our school hallway created by St. Paul's member Prof. Kristin Gjerdset and other artists from Wisconsin Lutheran College. Watch it here.

The Old Testament lesson provides us with perspective. Isaiah foretells the LORD's judgment in time and at the end of the world (Isaiah 24). All seems dark and gloom, but for the believing remnant the judgment day is good news.

They raise their voices, they shout for joy;
from the west they acclaim the LORD's majesty.
15 Therefore in the east give glory to the Lord;
exalt the name of the LORD, the God of Israel,
in the islands of the sea.
16 From the ends of the earth we hear singing:
"Glory to the Righteous One" (Isaiah 24:14-16).

At times, the world can seem incredibly dark, but God gives us a glimpse of the mountain top, the Mountain of the LORD, where death will be swallowed up and tears are gone (Isaiah 25:6-9).

With that promise of eternal safety before us, we have this conviction now:
You will keep in perfect peace him whose mind is steadfast, because he trusts in you (26:3).
Your name and renown are the desire of our hearts (26:8).
All that we have accomplished you have done for us (26:12).
Read Isaiah 24-26 here.

The need for the proper perspective is also evident in our New Testament lesson (read Colossians 1 here). Paul is writing this letter to the Christians in Colossae, a city in what is Turkey today, not far from Ephesus. They are being told by false teachers that Jesus isn't enough. You need something more than faith in Jesus to be good enough to enter God's kingdom. In response, Paul helps us see Jesus more clearly--that He is God who has died for us. When we are troubled by our sin, draw close enough to the picture so that all you see is Jesus. He is enough!

Counseling and Care Ministry

Pastor Bonack has nearly completed his studies to obtain a Masters in Mental Health Counseling. He has assembled a team to begin a Counseling and Care Ministry on our campus. Below is the first offering from this new ministry. We are thankful to those who remembered the Lord's work here at St. Paul's in their estate plans. It has been grants from our Thirteen 22 Funds that have enabled us to prepare Pastor Bonack for this new ministry opportunity. Learn more about the Thirteen 22 Funds here.

"Responding in Faith to Abuse" Seminar

Survivors of abuse are all around us. Even in the church. 1 in 3 men and women have experienced a relationship violence-related impact their lifetime. Abuse is a difficult topic, but so important for us to address. Research shows that survivors who have support from their church have more feelings of well-being and are less likely to return to an abusive relationship. All of us need to better understand this tragic phenomenon and how to respond. On Saturday, October 17, from 8:30 a.m. through 3:30 p.m. Michelle Markgraf will present a highly interactive seminar where all the members of the congregation are invited to learn
The different forms of abuse
Effects of abuse and trauma on the survivor
How you can help a survivor
How our church and community can help survivors and address abuse
Save the date: Saturday, October 17. Lunch and snacks will be provided. More information on registration will be coming in the weeks ahead.

Subscribe to Our YouTube Channels
The outdoor service will replace the Bridge and the 10:45 service this weekend. Bring your lawn chairs and a picnic lunch to enjoy some music and our beautiful campus after the service.

Pastor Pete