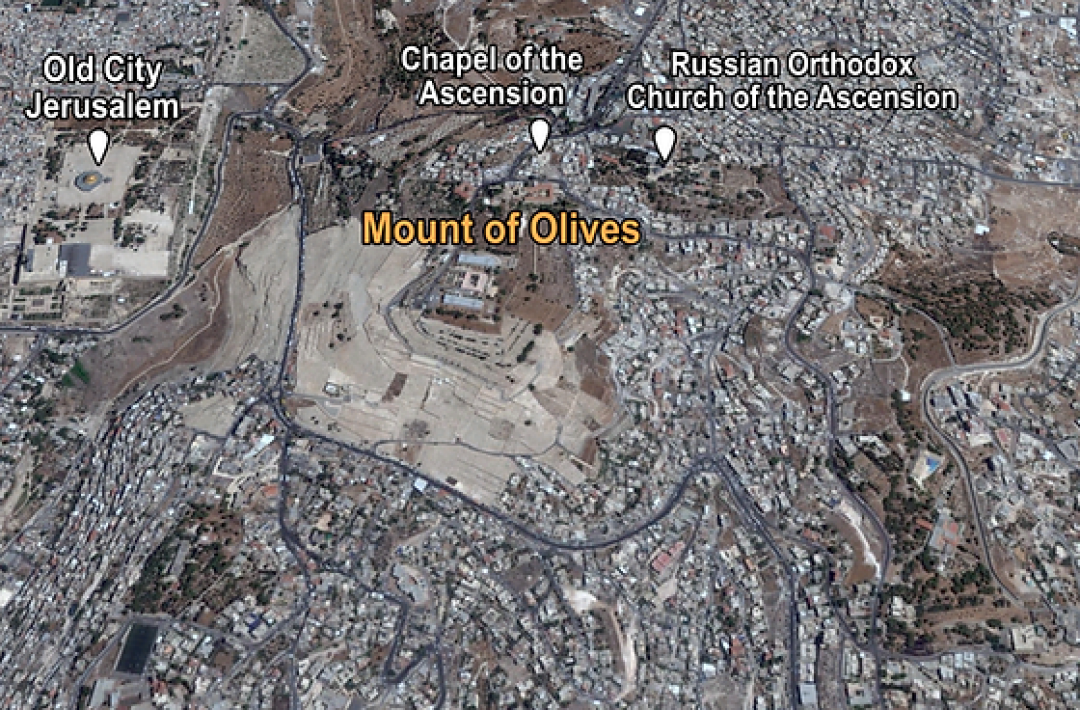 Jesus "appeared to them over a period of forty days and spoke about the kingdom of God… He was taken up before their very eyes, and a cloud hid him from their sight" (Acts 1:3,9).

Today, forty days after Easter, we celebrate that Jesus ascended to the right hand of God. At first, the disciples were filled with sadness that Jesus was leaving them. Ascension Day can be a day of mourning for us too, "If only Jesus were here with us!"

Rather than mourn that we cannot see him,
let us celebrate that the Ascended Lord Jesus is with us. "Surely I am with you always, to the very end of the age" (Matthew 28:20).

let us celebrate that the Ascended Lord Jesus is at the right hand of God and is interceding for us (Romans 8:34).

let us celebrate that the Ascended Lord Jesus is always close enough to hear our prayers, "Whatever you ask in my name the Father will give you" (John 15:16).
Join us this weekend as we celebrate our Savior's ascension!
Find a Solitary Place to Pray

The month of May can be a hectic time for many of us – confirmations, graduations, end of school activities, sports leagues, yard work.

In our New Testament lesson (Luke 4:40-5:16), it is a busy time for Jesus.
People are constantly demanding his attention

He is adding staff

Business travel is increasing
What do you do when your life is hectic like that? Twice in our lesson for today, Luke records that Jesus went off by himself to pray.

It reminds me of Luther's comment: "I have so much to do today that I'm going to need to spend three hours in prayer in order to be able to get it all done."

When you are overwhelmed, take time like Jesus did. Find a solitary space in your life to take your challenges to the Lord in prayer.

Notice in the lesson that even though they brought many sick people to Jesus, he took the time to lay his hands on each of them and heal them. When a leper, the untouchable of ancient Israel, approached him, Jesus did not shy away in fear and disgust. Jesus placed his hands on him and healed him.

You are not just one of many. You are an individual whom Jesus loves personally. Pour out your heart in prayer. Bring to Jesus those parts of your life that have no solution. The Ascended Lord has been in your place, bringing his petitions to his Father. He is right there with you in your solitary place. Feel the healing touch of his hands on your heart.

It is when we feel that healing touch, that we rejoice when he chooses us to be fishers of men. Read Luke 4:40-5:16.




Joining Jesus in his Solitary Place

The picture above shows rooms carved out of the rock below the Church of the Gallicantu (The Church of the Rooster Crowing) in Jerusalem. Here is the traditional site of Caiaphas' palace where Jesus was tried and where Peter denied Jesus three times before the rooster crowed twice.

As I saw what could have been a dungeon in Jesus' day, I realized that during that long night of Jesus' trial, there were probably times when he was locked away in a dungeon, waiting for the Sanhedrin to be assembled. In this dungeon, a book with psalms is opened to Psalm 88. Could it be that this was the last "solitary place" that Jesus found to pray to his Father before his crucifixion?

I thought of this today because we continue skimming through Old Testament history in 1 Chronicles 6, this time focusing on the tribe of Levi and the priests, temple servants and musicians who were from that tribe.

Three names jumped out at me: Asaph, Heman and Ethan. These three men, contemporaries of King David, were the temple musicians and wrote psalms of their own. Most of the psalms in Book 3 of Psalms (Psalms 73-89) are written by these three men. Most were written by Asaph. Heman and Ethan each wrote only one psalm, Psalm 88 and Psalm 89 respectively.

When I was in the dungeon under Caiaphas' palace (below), the book was open to the haunting words of Psalm 88. "You have put me in the lowest pit… darkness is my closest friend." Did Jesus pray these words of Heman in that very spot?




How many times did Jesus go off to a solitary place to pray in preparation for this night of darkness? Now is the time for each of us to develop that habit of finding that solitary place to talk with our Savior. Now is the time to make God's prayer book (the Psalms) our own, so that in the darkness, we can use God's inspired Word to give utterance to the pain in our hearts.

Find your solitary place with your Ascended Lord. Amen.