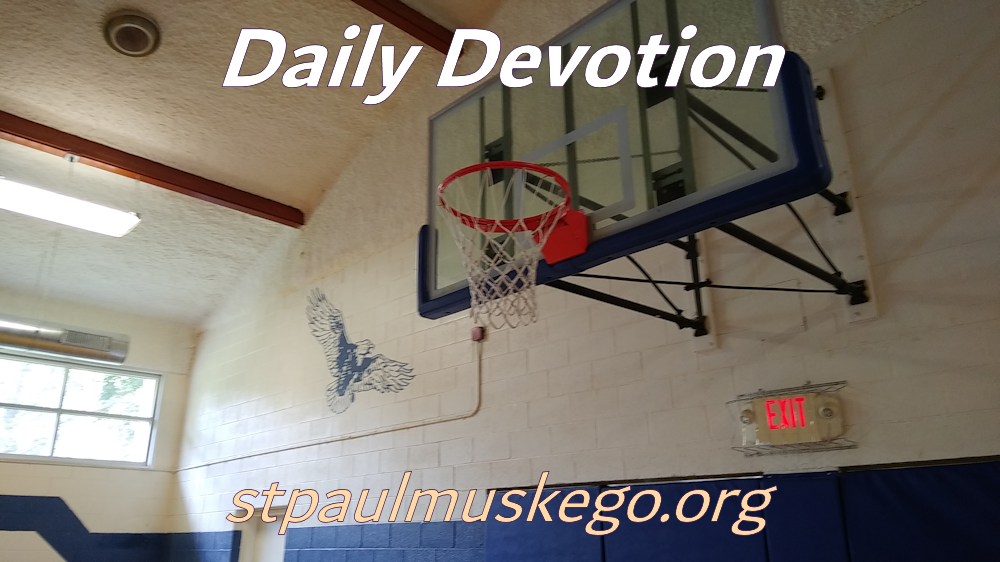 If you are reading through the Bible with me (see attached Bible reading plan), today you will see that Church is a Team Sport (watch video devotion here). The New Testament lesson (find Romans 16 here) is a great lesson to read in the midst of a pandemic and social distancing. It is more than a bunch of names! Paul is separated from these people by 100's of miles. He probably had not had personal interaction with them for months or perhaps years. Yet he celebrated the fellowship that he enjoyed with these Christians in Rome. Let us do all that we can to celebrate that, even though separated by the pandemic, we are still a united church. Strive to connect with others - email, text, phone call, visit - so that no Christian brother or sister faces the challenges of COVID-19 alone.

The importance of your Church Team is brought home in our Old Testament lesson (find 2 Chronicles 23-24 here). The Church stepped in to protect the king and preserve the Messianic line of kings. A generation later, King Joash, who had been saved, chooses a new "team" that leads him astray. He murders the son of the couple who saved him. The sinful nature so powerful in Joash is at work in each of us as well. We need our "Church Team" to love us and correct us and guide us.

Worship With Us

We had a wonderful outdoor worship experience. It is likely we will have at least one more outdoor service this fall. If you weren't able to worship with us, join us Wednesday at 7 pm. The Wednesday service has the lowest attendance which allows for plenty of social distancing between individuals and families. Below are our online worship links.
Dig Deeper into the Message

Join Pastor Pete in a Zoom Bible study on Thursday evening at 7 pm CDT to study GroupWork and discuss our relationship as Christians to our government.

An Opportunity to "Start"

If Church is a Team Sport, our sister church, Garden Homes, is inviting you to "start" on their team.

The Lighthouse Youth Center at Garden Homes Lutheran Church is in need of tutors to help youth with school lessons and homework assigned to them via virtual learning.

Lighthouse assists families and children by providing a safe environment and needed technology so inner city students can complete school assignments and keep learning.

Lighthouse is open and running its program with all of the safety precautions in place that are required of them: temp checks, strong cleaning procedures, less than 50% capacity, COVID admission related questions, wearing masks, etc.

In addition to the tutoring, Lighthouse is also in need of people to physically provide Friday night suppers for the children or financial help so it can obtain supper for the children directly.

To learn more about these needs and how you might help, contact Dr. Nelson (414-750-2586 or ).

Prayer Request

School is starting for many of our children this week, either in person or online. Please keep our children and staff in your prayers that we might, with God's help, provide for the spiritual, emotional, social, intellectual and physical needs of our children.

Pastor Pete