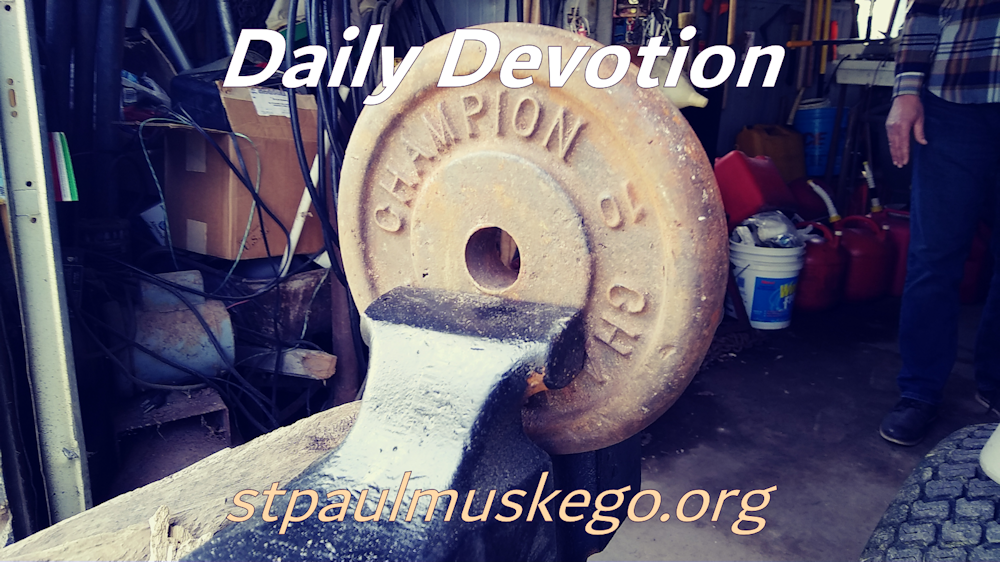 Our video devotion today (watch it here) takes us to a place on campus most of us have never visited. There we found a vice to illustrate the dilemma the Israelites faced.

In 1 Samuel 11-12 (click here to read or listen), we find the Israelites caught in the jaws of a vice. The Ammonites were attacking from the east. From previous chapters, we know the Philistines were attacking from the west. Like a vice, they were squeezing the Israelites, threatening to destroy them. No wonder the Israelites asked for a king to fight their battles.

But in chapter 12, Samuel warns them that their only protection is to "fear the LORD and serve and obey him." The LORD was the only Champion who could keep them from being crushed.

In Acts 16:35-17:15 (click here to read or listen), Paul and Silas were in danger of being crushed by persecution. But they trusted their Champion who had to suffer and rise from the dead as the Old Testament had foretold. They were not crushed, and a vibrant congregation was formed in Thessalonica.

Being Crushed in the Jaws of a Vice?

Just this morning I received an email from a friend who feels crushed by the financial pressures the pandemic has brought upon his business and home. Others have shared the crush of working from home and being teacher to their children.

What will we use to keep the jaws of the vice from crushing us? Beware of the temptations to addictive behaviors – they are the "kings" that want to become our "saviors." But they cannot protect us from being crushed. Trust the Champion, the One who conquered death. My goal as I walk with you through the Scriptures is to see our Champion more clearly so that we can say with Paul, "We can do all things through him who strengthens us" (Philippians 4:13).

A Few Prominent Women

Interesting that Luke uses this phrase in regard to the ministry in both in Thessalonica and Berea. Reminds me of our Culture Shift series message: When Women Became Precious (watch it here). When Christianity becomes more influential in a culture, society begins to recognize that women and men are of equal value in the eyes of our Savior.
More Help to See our Champion

Forward in Christ magazine is filled with devotions, Bible studies and testimonies of the power of our Champion to save us. Download two free issues by clicking here.

Like our Facebook Pages

We have just added two new Facebook pages to our St. Paul's family.
These pages will help us invite others to experience these Christian education ministries on our campus.

Our other Facebook pages are our St. Paul's Church page (click here) and The Bridge page (click here).

Like us, follow us, share our posts. This is all part of our mission: By every possible means we bring every person within our area of influence closer to Christ.

May our Champion protect you from whatever worries and fears threaten to crush you. Amen.

Pastor Pete