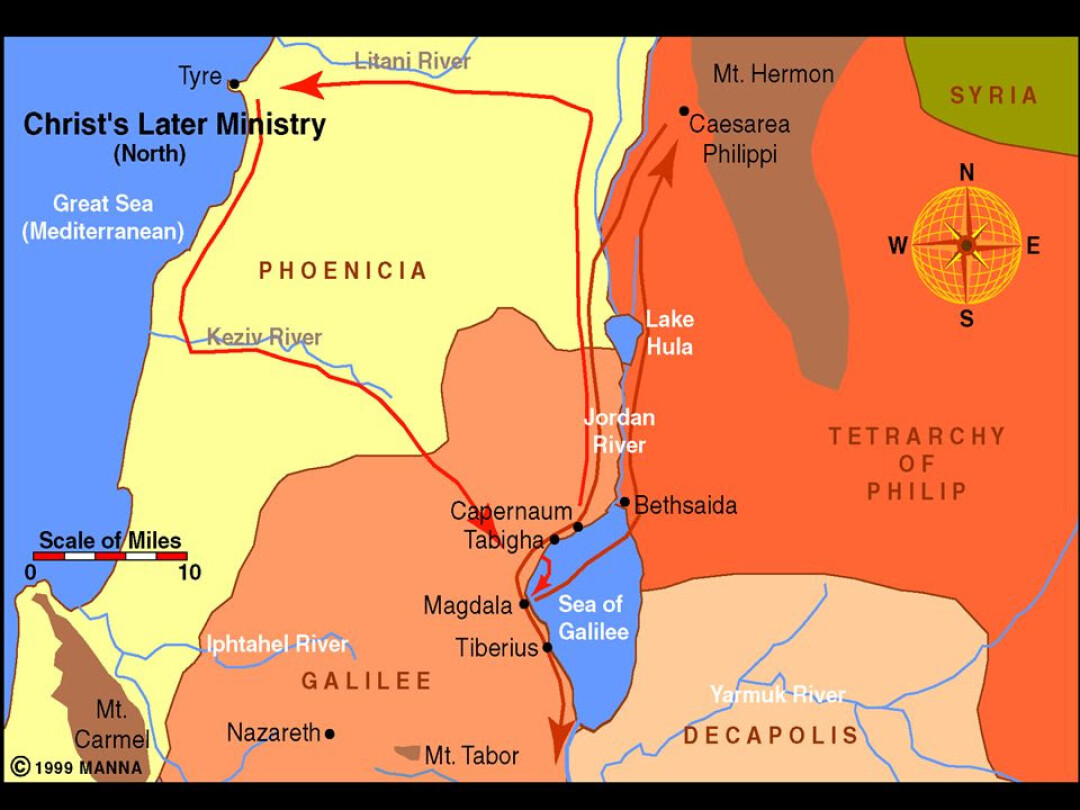 In our New Testament lesson (Matthew 15:21-16:4), it is nearing the end of Jesus' ministry. He is beginning to withdraw to the north, to get away from the crowds and devote more time teaching his disciples. Today we find him on the Mediterranean coast near Tyre and Sidon. Tomorrow we will follow him directly north of the Sea of Galilee to the foot of Mt. Hermon.

Jesus is again amazed at the faith of a non-Jewish individual. The centurion in Matthew 8 showed great faith, saying, "Just say the word…" So too, this Gentile woman doesn't take "No" for an answer, but remains persistent in prayer.

Could it be that Matthew, the Gospel writer to people of Jewish background, is calling us "church people" to examine our own hearts? Do we, like the Pharisees and Sadducees at the end of the lesson (Matthew 16:1-4), constantly want more assurance, more signs of God's love?

Let the sign of Jonah be enough for us—that just as Jonah was in the belly of the fish for three days, so Jesus was in the tomb for three days and came forth alive (Matthew 12:40).

Come, Holy Spirit, and work a miracle in my heart! Give me faith in Jesus as the promised Messiah. Give me faith to be persistent in prayer, like this the Syro-Phoenician woman, especially for those whom I love who are suffering.

Our Old Testament lesson (Job 7-10) gives us insight into the heart of the sufferer. "My eyes will never see happiness again" (7:7). No hope!

Job's friend Bildad only knows God's justice. Bad things happened to Job and his children because God is punishing them. Job slips into that kind of thinking as well. "Tell me what charges you have against me" (10:2).

In his despair, he wishes that he had never existed. "Why then did you bring me out of the womb? I wish I had died before any eye saw me" (10:18).

"If only there were someone to mediate between us, someone to bring us together" (9:33). This is my prayer for each of us today.

Father, may we be that mediator. When someone whom we know is suffering and feels that God is their enemy, grant us the faith to mediate between the sufferer and their God. In the face of suffering, give us the faith to know that our God acts not only in justice, but also in mercy and infinite wisdom. Give us the faith to point our suffering friend to Jesus as the Mediator who has made peace between them and God. No matter what their sin, Jesus has redeemed them. Give us the faith of the Canaanite woman who trusts Jesus even when others are saying that Jesus doesn't care. Give us the faith to cry out for our suffering friend, "Lord, Son of David, have mercy on me." Amen.