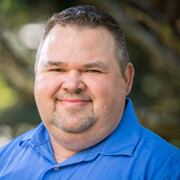 Randy Fink
Church Administrator
Staff Minister Randy Fink serves as the church administrator, assisting the ministerial team leader with the day-to-day ministry operations. He oversees ministry support operations, campus and facilities, and volunteer ministries.
He came to St. Paul's in 1999 when he became the congregation's first business administrator. From 2010-2017 he served as the director of operations at Wisconsin Lutheran High School in Milwaukee. In 2017, he returned to St. Paul's as their first church administrator.
Randy and his wife Lori have four adult children. He describes himself as a servant leader, serving God, serving his spouse, serving his family, serving the community, and serving the wonderful Jesus followers at St. Paul's.
A passage from scripture that motivates him in his service is:
Ephesians 4:12 "to equip his people for works of service, so that the body of Christ may be built up."
#heavenismyhome